HALOCOUTURE® HAIR EXTENSIONS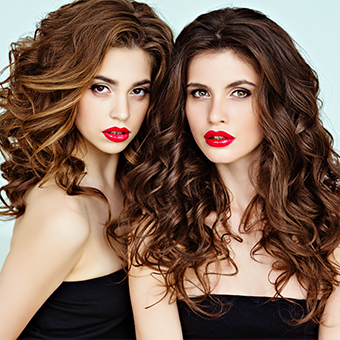 Are you looking for gorgeous, luxurious hair? Have you ever wished for long, fuller hair without the commitment of bonding, clipping, or gluing? Then HALOCOUTURE® is the product for you! Our 100% Remy Human Hair Extensions add body, volume, and length in a matter of seconds. You can wear them daily or just for special occasions and remove them as easily as applying them. This innovative idea has virtually no damage. There are four lengths–12 inch, 16 inch, 20 inch, and 24 inches. They are the basic equivalent to a full head of hair, adding about 70-120 grams of hair.
The process is so easy! All you do is place the Miracle Wire an inch to three inches behind the hair line. Pull the weft of hair down past the occipital bone or where the head naturally curves in. From there use a comb to pull your natural hair up and over the Halo–as well as few pieces forward to conceal the Miracle Wire. VIOLA! Angelic Hair in an Instant!
NEW LAYERED HALO
HALOCOUTURE® exclusively introduces The Layered Halo! Uniquely designed and unlike any product available, each piece has 2-3 built-in, gradual layers, giving the most natural style with minimal effort. Each piece creates beautiful, flowing layers that allows short hair to blend into long in an instant!
Each Layered Halo ranges between 100-165 grams and is available in 23 colors and three lengths: 12 inches,16 inches, and 20 inches. Applied the same way as The Original Halo, each piece adds instant volume, length, and style. A new all-time favorite!