ABOUT US
WHO WE ARE
Air Salon and Blow Dry Bar is a full-service, luxury salon. A day at Air can be as luxurious as one can imagine. Enjoy a beautiful cut and/or color or a relaxing shampoo and Airstyle (blowout). Our stylist are here to pamper and serve. We strive to offer a unique, relaxing and friendly beauty experience that renews our guests on the inside and out.
BREEZE IN, BLOW OUT.
Air believes in cultivating an environment where people can shine. We believe in walking towards the same goal even though we may all take different paths. Our focus is on servant leadership and everything we do is centered around service. The servant – leader shares power, puts the needs of others first and helps them to develop and perform as highly as possible. If we have brought a smile to our guest's face then we have truly succeeded. We believe in allowing our guests to see themselves as their best self. This is why our team is a kaleidoscope of individuals who identify with so many, all working towards a common goal of service.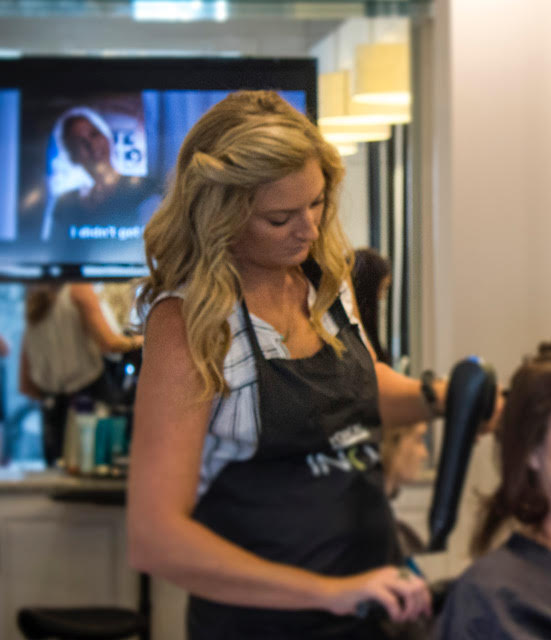 WHAT WE DO
Our stylist focus on building a foundation based on life-long learning and education. Each stylist is required to continue their education courses to stay up to date on trends and styles. We specialize in transformative color and cuts, and the art of styling based on facial shapes, fashion personality, and skin tone at out Airstlye Bar. 
We are an exclusive Kérastase salon, and believe healthy beautiful hair comes from quality natural ingredients.
OUR STAR Values
Serving • Teamwork • Always learning • Respect
POLICIES
Children's Policy
Children are only permitted in the salon when receiving a service. For safety reasons and insurance purposes, children may not accompany you while you are having a service nor may they sit up front in the waiting area. We do not have the facilities to care for children. We love children, and we hope you understand, we cannot assure your safety in a professional environment. We also do not want to compromise the relaxation of our guests. YOUR UNDERSTANDING IS GREATLY APPRECIATED.
Booking and Cancellation Policy
Your experience is very important to our Air team and we understand that sometimes schedule adjustments are necessary. We require a credit card when booking a service valued at $150 or more. We respectfully request a 24 hour notice for cancellations in order to accommodate other guest. If you must reschedule or cancel your reservation, please notify us 24 hours in advance to avoid an automatic credit card charge of 50% of the price of the services reserved.
Parental Approval of Charged Policy
All transactions over $100 on credit cards, not registered in the guest's name, will require a phone call approval.
Disclaimer: All credit cards on file are added to the system via a secure electronic process that ensures that information is encrypted and remains secure